The original Woodstock property was named by English settlers, after their hometown of Woodstock, near Blenheim Palace in Oxfordshire, England. The Townsend Family, received a Crown Lease for the property in 1905, built a home with a brick well and established the estate as a vineyard and orchard. It has been known as Woodstock ever since.
In the centre of the town of Woodstock in England stands a set of medieval wooden leg stocks, which were historically used for the public punishment of townsfolk who had over-imbibed.
A replica of these stocks welcomes you at the entrance of Woodstock Estate in McLaren Vale.
Incidentally, our much-revered single vineyard Woodstock 'The Stocks' Shiraz, sourced exclusively from 31 rows of old Shiraz vines (planted circa 1900), has been cheekily named after this set of stocks!
---
The majority of our wines are sourced from Woodstock Estate, which lies between McLaren Flat and Blewitt Springs, east of the town of McLaren Vale. Winemaker Scott Collett's close proximity and deep understanding of these vineyards over many years maintains strict quality benchmarks of maximum flavour and intensity for which the Woodstock Estate is known.
The varieties planted are Shiraz, Cabernet Sauvignon, Grenache, Mataro, Riesling and Montepulciano.
Woodstock Estate owns some of the oldest vineyards in McLaren Vale, with our flagship 'The Stocks' Vineyard planted circa 1900, a bush vine Grenache vineyard which was planted in 1930, and even our 'young' vineyards being planted in the early 1970-80s.
Although not yet certified organic, our vines are treated with minimal impact sprays and no pesticides. We tend our vine canopies by hand, and if required the vines are leaf plucked or crop thinned to ensure even ripening and good concentration of berry flavours.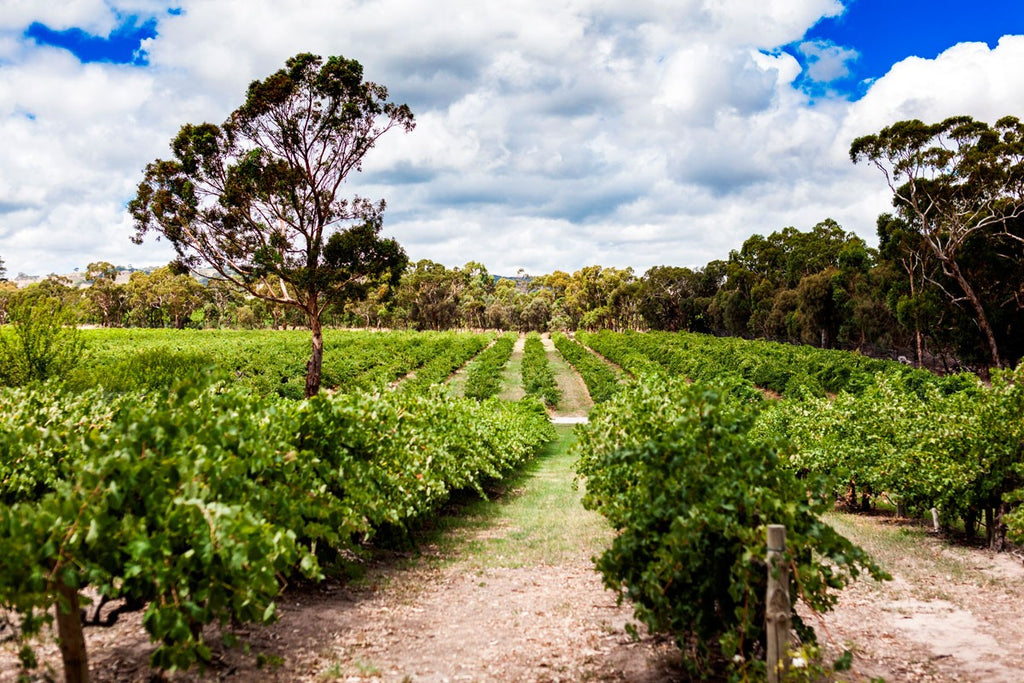 ---
To produce wines of intensity and balance, the choice of harvest time is crucial. The optimum harvesting window of opportunity to ensure the berries are picked at their best is often only a day or two for early ripening whites and less than a week for the reds.
Vintage usually commences in late February with the whites the March for Shiraz, then Cabernet Sauvignon and lastly Grenache and Montepulciano. Mechanical harvesting during the night is preferred so the grapes can be picked promptly at their optimum ripeness in the cool of the night to preserve natural flavours.
Our vineyard and winery managers work closely during harvest to ensure the grapes are crushed immediately when delivered.
On arrival at the winery, grapes are immediately weighed, sampled, tasted and tested. The best Italian crushers have been specifically chosen for their gentleness and ability to vary in process depending on fruit harvest method and the wine style desired. White juice is drained and cold settled to remove solids, flesh and pulp before decanting or "racking" to fermentation vessels.
Reds are cold soaked for 24 hours before fermentation with their grape-skins for at least five days, mixed twice daily. The juice is mixed with skins which float on top. This helps cool the fermenting skins and to extract their colour and flavour.